Hi Stampers!
Are you in for a treat today! The Design Team ladies have each created such GORGEOUS projects! I am super excited to share them with you today! They definitely put me in the crafting mood! But first, we need to chose our winner from last week's comments...
Here is our random winner of last week's
BLOG CANDY GIVE-AWAY!
According to the random.org is...
Here are your random numbers:
9
Timestamp: 2013-02-10 11:25:20 UTC
Comment
#
-
Mary
- Mary said: Congrats Heidi! The DT creations are gorgeous! Thanks for the amazing inspiration!!
Congratulations Mary!
Please send me an email at lovesrubberstamps@yahoo.com and I will send you your code for a $10.00 gift voucher to the Loves Rubberstamps store!
Remember...
EVERY SUNDAY
... you will have the chance to win a
gift voucher
to the
Loves Rubberstamps Store
....
just for leaving a comment on the post
! Winner will be chose with random.org and will be announced on the following Sunday's post!
To try and win a
$5.00 Gift Voucher
- Just leave a Comment on this Post - that's it - nothing else!!
To try and win a
$10.00 Gift Voucher
- (we will check these)
1. Be a FOLLOWER of this Blog
2. Be a FOLLOWER of The
Loves Rubberstamps Challenge Blog
3. Be our
fan on Facebook
4. Add our Blog Candy Badge to your blog
5. Leave a Comment on this post to show love to the DT
Now on to today's blast of inspiration from our talented Design Team! Here we go....
Athina Emory
TUXEDO BLACK MEMENTO INK PAD
Pumice Stone Distress Ink
Athina did such a gorgeous job! The colors in the image are so deep and rich looking. Check out the folds in her dress! This is the coolest layout also, the trim as the V-Shape is really neat looking!! I really love the designer papers that Athina chose they are so pretty with this image. The embellishments and the stamped ribbon are just perfect too! Absolutely adore this card! Awesome job Athina!!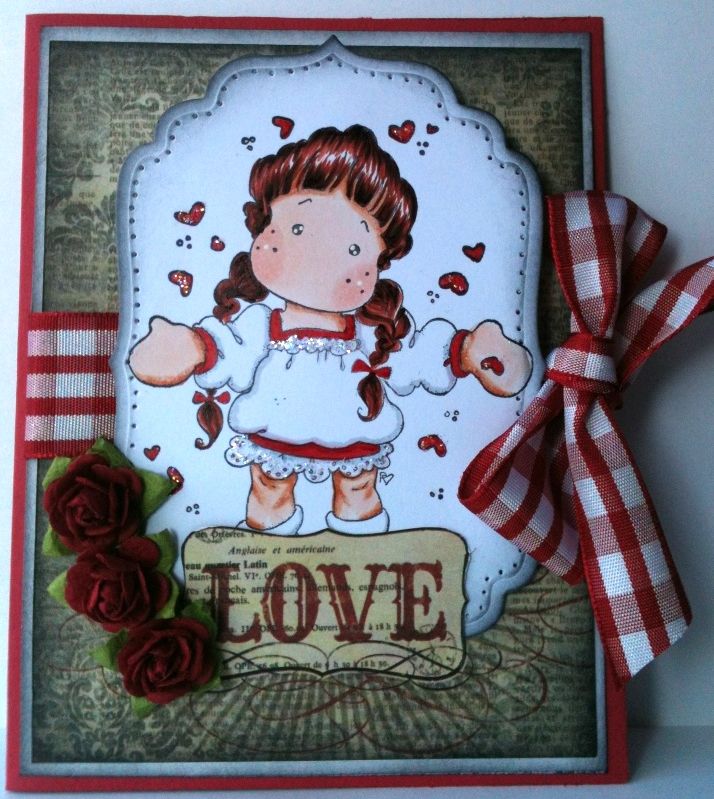 Dangina Martinez
Oh My Word!! Total LOVE! I love this country feel with the newsprint paper and that gorgeous red gingham ribbon! I am a total sucker for gingham prints - LOL! Dangina is so amazing at coloring, I wish she would bottle some of her talent and share it with me - LOL! This image is colored up so adorable and I love the added areas of glittery bling. Those roses are so pretty and add the perfect touch! Beautiful job Dangina!!
Shanna Shands
This is such a fun and funky layout! Shanna always colors her images up so perfectly! What beautiful designer papers to use, I really love the text paper in the background piece. The wide ribbon across the middle is awesome. This would be such a sweet Valentine's Day card to receive so someone will be very lucky :)
Lydia Walker
Whimsy Stamps 'Sunkissed'
Paper Smooches
'We Connect'
Die-namics 'Decorative Doily
'
Die-namics 'Decorative Doily Duo'
Die-namics 'Faux Crochet Border'
Die-namics 'Notebook Edge'
Versa Mark
Distress Ink 'Vintage Photo'
Distress Ink 'Tea Dye'
Spectrum Noir Markers
CC Ultra Smooth Card
OH MY GOODNESS!!!!! This is sooooooo darling! I love everything about this and don't even know where to start - LOL! Those soft pretty colors...the COLORING on this image is SUPER CUTE!!! Lydia told me that she just picked up the pastels in the Spectrum Noir alcohol markers and this looks amazing! The background around the image is perfect! I hope Lydia uses her pastels lots and lots because the effect is beautiful! After she colored this cutie I can see why she is "addicted" to Elisabeth Bell images now - LOL! I am an Elisabeth Bell addict myself so I know where she is coming from - LOL! I will not even say how many I have let's just say a few...hee hee! The Die-Namics Doilies and Dies are so beautiful with this too! Stunning Job Lydia!! ♥ Totally LOVE this! ♥
Marcy Dangcil
Memento Ink-Tuxedo Black
Tim Holtz Distress Ink Frayed Burlap
Tim Holtz Distress Ink Broken China
Best Glue Ever
This has got to be the absolute CUTEST mailbox ever! Marcy is amazing at altering items to make them 1000 times more adorable :) I love the papers that she chose, those love postage stamps are perfect! Check out that turqoise bling ribbon!!! GORGEOUS!! Little Miss Stella is perfectly colored and just pops against that beautiful background! Someone is going to be very luck this Valentine's Day to get this super cute gift! Awesome job Marcy!! Love your stunning, sunny, warm looking views too...way better than cold, blah, muddy, icky, snowy views - LOL!
WOWZERS!! You all did such an amazing job this week - they all look absolutely awesome! I am so blessed to have found such talented, amazing ladies designing for us :) Thank you so much for all you do - it means the world to me :)
I hope our Design Team ladies have inspired you as much as they have me today! Thank you so much for stopping by and be sure to leave them some love and you will be in our drawing for next week's candy!
Have a great day!
Laura & The Loves Rubberstamps Designers