Hello
So happy you stopped by! I never seem to leave much room for a sentiment so, I added my sentiment to the inside. I like to make cards and add a sentiment to inside when it is time to gift it. You just never know what occassion you might be able to use it for, hehehe.
INKSSENTIALS REUSABLE NON STICK CRAFT SHEET
when coloring to keep my inks from ruining my work surface. I wouldn't want to pick up any colors that might be left behind from an older project. It is such an awesome product! It is a must to have it down when I'm using my
INK BLENDING TOOL
to add distressing to the edges of my projects like I did here with
I hope you enjoyed your visit! Be sure to stop & Shop
Loves Rubber Stamps
Shop! Please check out our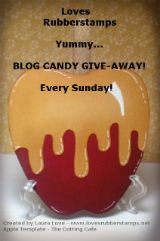 and if you would like to join in the Challenges, just click the cute little owl below!
Tons of Hugs, Dangina